SCR Prediction Run
Our first Summer Pop Up Run happened on Tuesday, May 25th at the Satellite High track. 41 runners of all ages and paces came out to try their hand at the Prediction Run. No watches. No phones. Guess your 2 Mile time and off they went. The night's Prediction Run winner was Yagen Guiterrez. She predicted a time of 19:55 and she ran 19:55. Amazing! Yagen scored a SCR duffle bag, visor and a container of Endurox from Pacific Health Labs that was a training camp product sponsor.
Ed Donner was bummed but quickly got over it. Ed's prediction was 10:40 and he came through the finish in 10:41. We all thought he had the win until Yagen nailed it. Pictures will be posted soon on the club's Facebook page. Thanks to Keith Snodgrass for snapping the action photos. Next Pop Up Run is on Tuesday, June 8th at 6pm at the Eau Gallie Library. Everyone will be doing a Causeway workout. Questions? Email info@spacecoastrunners.org.
---
Golden Shoe Nominations
Now accepting nominations through Wednesday, May 5th. Please email info@spacecoastrunners.org if you have someone you feel should be recognized for the work they have done in support of the running community.

Award guidelines:
An individual may only win the award one time.
Any member of SCR may submit a candidate along with written rationale.
Previous recipients will sit in committee to review and select the winner.
A candidate does not need to be a member of SCR.

View all past Golden Shoe winners here: https://bit.ly/3aIUey5
---
Celebration Night has moved its date!
We originally scheduled Celebration Night to be on June 4th. The date has become unavailable to us so we've moved to Friday, June 11th from 5pm to 8pm at the Wickham Park Regional Center. More details to come!
---
RUNNER OF THE YEAR SERIES POINTS UPDATED
Runner of the Year Series results are now updated to include points from the Downtown Melbourne 5K which ran on Saturday, March 17, 2021. Ran All Races participation is now up-to-date as well. If you have any questions or corrections, please email info@spacecoastrunners.org. There is one more ROY Series points race which is this coming Sunday, the Space Coast Classic 15K & 2 Mile.
---
SPACE COAST CLASSIC 15K & 2 MILE
Registration is now open for the 35th Space Coast Classic 15K & 2 Mile race. We're hosting an in-person race on Sunday, April 11, 2021. You can also participate virtually which will give active SCR members credit for Ran All Races participation. The Classic is the last points race in the Runner of the Year 2020-2021 Series. Members receive a club discount so sign up today. Details: http://bit.ly/2pyzV1J
---
WINTER SOCIAL: SUNDAY, 1/31
Everyone's invited. Not a member of SCR? No problem...come enjoy free food and drink as we kick off 2021 by celebrating our running community. We'll be doing it social-distance style too!
Enjoy a run down River Road before the Winter Social. 6:30AM meet.
Set-up around 7:30/7:45am
Social kicks off 8:00 am
SCR will provide a tasty morning breakfast and drink for everyone!
Save $5 on new club membership and renewals
Purchase SCR shirts and singlets. We'll have all the SCR apparel available.
Come, mingle & meet SCR members you might not know, find new run partners to join you as you reach for your 2021 goals.
---
ROY 2020-2021: ISLAND TIME 5K
Registration is now open for the 15th Running on Island Time 5K.
SCR members save $5 on early registration (thru 8/21)

Electronic timing by Running Zone

Technical shirts guaranteed for first 350

Door Prizes & Yummy Post Race TO GO Refreshments

CDC Guidelines will be followed for the live event, face coverings/masks must be worn until race begins and for all volunteers and race organizers.
---
Join the SCR Board of Directors! We're accepting applications for members who would like the opportunity to help guide SCR's future in the running community. It's an opportunity to network with other members and to learn more about the club. We have 10 open board seats so NOW is the time to get involved. No experience is necessary to run in May's election.

If interested, please contact SCR President, Debbie Wells via email at debbie@spacecoastrunners.org and provide the following information by May 6, 2020:
Short bio with a picture of yourself
Why you would like to serve on the SCR board
---
No Water on River Road this Sunday.
Please note: SCR will NOT have water stops set up in Cocoa Village this Sunday, 3/15 due to COVID19 concerns. Please be prepared to carry your own water.
---
WINTER SOCIAL ON SUNDAY, 1/5/20
Will be held at Oars & Paddles. Everyone's invited!
Due to the Winter Social being held on Sunday, January 5, 2020 at Oars & Paddles, we will not be putting water out on River Road in Cocoa Village that morning. Come run with us at O&P and enjoy the social. It's your chance to meet new members and to win some pretty cool prizes. All the info is on the club's Facebook page. Click here to check it out.
---
BALL BLAZES TO FINISH 50 HALF MARATHONS IN ALL 50 STATES
---
Why did Carol Ball start her quest?
On December 10, 2011 Carol Ball was an avid runner. She loved running with her fellow Space Coast Runners friends. On that day she attended what would be Marlene White's last marathon in her quest to finish the 50 States. That day in Rehoboth Beach, Delaware got her thinking...could she accomplish something just as monumental? Later that day she said, "You know, I should try to do this too."

Given her ongoing knee issues, Carol quickly realized the 26.2 mile distance was probably not the smartest choice for her as a runner. At that point she had run a bunch of half marathons in Florida and ones in Massachusetts and Vermont. Her quest to finish 50 half marathons in 50 states had officially started. Three down, forty-seven left to run.

The grand finale finish of the 50 happened when?
Carol completed #50 on Saturday, November 10th at the RDC Half Marathon in Durham, NC. We reported on the group's finishing times in last week's article. Carol was surrounded by her two daughters, her sister, Donna and ten fellow running partners and friends. She clocked a 1:57:38 which gave her a 2nd place age group award. It was a nice way to end.

"I strugged at the end of this one", Carol recalled. Kara Springer, Marjorie Nelson and my daughter, Tracy were running with me. "Towards the end we started playing a game where they would yell out a state and I would try to yell the race I had run." It proved to be a good distraction that got Carol to the finish line.

So which ones were your favorites?
It's hard for her to pick favorites. Carol said, "I found it's the stories behind the races - that's what it's all about." When pressed further, she did reveal a love for Canyon Lands in Vermont. She thought Buffalo was pretty cool. She'll also always remember Alaska where a group traveled together to run the race that included Susie and R.C. Koontz and Jeff Gleacher. Carol's sister, Donna Neill who is a former SCR member and club Secretary living in Colorado, has done 25 of the half marathons with her.

How did you get 47 states done in 8 years?
It took a lot of planning. And, she took advantage of Mainly Marathons. They're an organization that sponsors a group of races on consecutive days. Carol definitely recommends them. She was able to knock out 5 states with their Center of the Nation series and 4 in their New England series. "You get to know the people you're traveling to the races with", she said. "It becomes a lot of fun."

Fun Fact!
Carol's fastest half marathon time was 1:40:10 at the 2003 Space Coast Half Marathon. To see the complete list of Carol's 50 half marathon races by state, click here to Download file.

Sounds cool! How do I get started?
Carol didn't join any of the existing 50 State clubs but there are some out there that are designed to help you achieve the dream. Check out Fifty States Half Marathon Club or The Road to 50.

Congratulations Carol Ball! It was exciting to be able to report on another epic adventure by a terrific Space Coast Runner!!!
---
EXECUTIVE BOARD CHANGES
IMPORTANT CLUB NEWS
On August 18th Shelley Williams resigned as President of Space Coast Runners. Because of growing business conflicts, she felt that she would not be able to keep up with the commitments of the club. She indicated that this was not an easy decision to make and wished SCR well.

And you know they say, "when it rains it pours". The club also received resignations from club Secretary, Heather Felix and board member, Mary Hawes. Both cited busy schedules as the reason behind their departures.

While it's never pleasant to see one, much less three hard-working, involved members of SCR retire, it is encouraging to announce that three board members have stepped up to the plate to fill these vacancies.

Debbie Wells has accepted the position and responsibilities of Club President. Having served on the board for the past two years as well as being SCR's current Vice President, Debbie is well aware of what the position needs and requires. Her goal is to keep SCR moving in the right direction by serving the membership and elevating our involvement in the community.

Additionally, Elisha Gould accepted and was unanimously voted onto the Executive Board as its newest Secretary. Elisha continues to expand her role with the club which is terrific. And, after a month of careful consideration, new board member, Caeley Looney accepted the board's vote to the Vice President position. We're thrilled to have some high energy individuals now seated in the SCR Executive Board roles.

If you would like to send congratulations to these three ladies, they can be reached via email at debbie@spacecoastrunners.org, elisha@spacecoastrunners.org and caeley@spacecoastrunners.org.
---
Yes, you! Volunteer with Space Coast Runners.
We need you! SCR is getting busy on the volunteer scene and we would ❤️ your help at any of the upcoming events. Click the events below for all the details.
Turtle Krawl 5K | Various positions race week and race day | click here to view
Turtle Krawl has a few positions open and they would love your help. Take a look and see if anything would fit your schedule.
Meal Packing Night

at The Children's Hunger Project | Thursday, 9/19 at 5:30PM | TCHP in Cocoa
We need 13 more volunteers to help pack food for the children. If you've never done this before it's a real way to give back to the Brevard community.
This is fun! Unwrap the 2019 marathon medals with us. Last year's crew set a new record for speed of unwrapping! We finished right at 2 hours. Be a part of the Space Coast Marathon Mania!
Help us Marathon Week at Running Zone with Packet Pickup. We have to cover 4 days and have 3 different shifts/times available each day.
If you're not racing at the Space Coast Marathon, help us in the morning at the Pizza Tent. All you have to do is serve up the pizza for participants. It's easy. Family and friends can volunteer too. If you are racing, consider one of the later shifts. We have 4 different shifts available. Check it out.

If you have any questions, please email us at info@spacecoastrunners.org. We hope to see you at one of these volunteer events!
---
Running on Island Time 5K
The next race in the 2019-2020 Runner of the Year Series is the Running on Island Time 5K on Saturday, August 24 at 7AM. The race is held in Merritt Island at Divine Mercy Catholic Academy. Tech shirts are guaranteed for the first 350 registrants so don't wait until race week on this one. Early registration which includes the $5 discount for SCR members is through 8/17. The free SCR Youth Series fun run will offer 1/4 and 1/2 mile distances.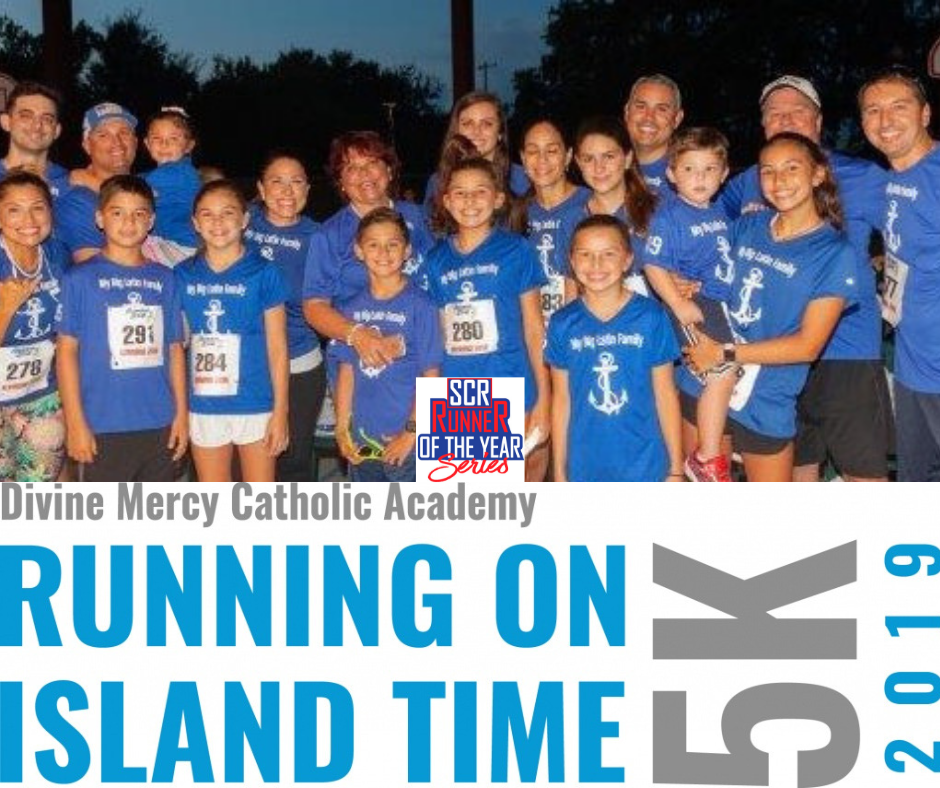 ---
ROY Series Finale: Eat My Crust
The grand finale of the 2018/2019 SCR Runner of the Year Series - 8th annual Eat My Crust 5K is happening on Sunday, May 5th. This 5K is one of the most popular races in the area as it features a point-to-point race course and organizers award the Grand Prize Golf Cart to one lucky participant at the end of the post-race party. You don't want to miss the running, the pizza, the finisher medals or the prizes.

You can find out all the info on the Eat My Crust 5K by clicking here. If you're ready to register, click here.
---
Run the 33rd Space Coast Classic
Join us for the 8th race in the 2018/2019 SCR Runner of the Year Series - the Space Coast Classic 15K & 2 Mile. The race has a brand new Spring date of Sunday, April 14, 2019. Plus, it's being run on a brand new course in South Viera. Come run where no other race has run before.

The 15K race starts and finishes at Quest Elementary, as does the 2 Mile race. You can find out all the info on the Space Coast Classic by clicking here. If you're ready to register, click here.
---
NEXT ROY RACE IS DOWNTOWN MELBOURNE 5K
Expect a completely different experience at this year's 37th running of the Downtown Melbourne 5K. The race is no longer a separate male/female race format. Instead, you'll be entranced by a Harry Potter themed 5K with wizards, magic and more! The race headquarters site is moving from Henley Park to Municipal Lane. Expect bigger and we're sure better. Early registration is open until 3/21 so get registered.

There is SCR special pricing along with a School Challenge for children (special price available). There's a team competition for Top Male and Top Female Teams. Each team must have 4 members. Plus, this is the final race in the Run for Children Series.
Register for Downtown Melbourne 5K by clicking here!
---
SUPER STRATEGY SUNDAY! JOIN US.
You're invited to be a part of Super Strategy Sunday! We're looking for SCR members who would like to contribute ideas and ways to guide SCR's path in the future.

How can we grow SCR?
What should SCR be doing in the running community?
What type of fun and competitive events could we do?
What do you want your running club to be?

Take the time to join us on Sunday, February 17 at 1pm at Beef O'Brady's. They have a special room where we'll meet. You're welcome to order food and drinks while you are there.

The meeting will be led by Shelley Williams and Mike McNees. RSVP on our Facebook event page if you plan to attend so we can get a good count. Thanks!
---
APPLY TO BE IN THE 2019/2020 ROY SERIES
The application period for the Runner of the Year Series is now open. Any race may submit an application to be considered for teh 2019/2020 SCR Runner of the Year Series. Click here to download the application to submit. All submissions are due by 1/28/19.
---
SCR Board Meeting Tonight
The SCR Board meets tonight at 7PM at ProHealth in Viera. All members are welcome to attend.
---
Space Coast Classic Registration Opens Nov
The 2019 Space Coast Classic 15K & 2 Mile race registration opens on November 1st. The race has a new date and new location - April 14, 2019 in Viera. The move comes for a number of reasons with the main one being the influx of distance races on the Fall calendar.
Race director, Brittany Streufert is excited about the new location and promises a beautiful course designed to keep runners entertained. It will run through parts of Viera yet unexplored by races. All the details are provided on the race page which located here.
---
Meet Tom Stokes, Liver Transplant Recipient
A little thing like a liver transplant hasn't slowed down SCR member, Tom Stokes. In fact, it might have made him more competitive. Read his amazing story on this week's blog post by clicking here.
---
How to Run 4 or 5 (or more) Half Marathons in a Week
You may ask why would anyone want to run 4 or 5 or more half marathons in a week?! Find out on this week's SCR blog post by member, Carol Ball. Everything you would want to know can be found here: http://bit.ly/2KTiNIO
---
Battle of Brevard scheduled for August 1
The 4th annual Battle of Brevard Fun Run presented by Space Coast Runners will be held at the Viera Regional Park (2300 Judge Fran Jamieson Way Melbourne, FL 32940) on Wednesday, August 1, 2018 at 6:30pm. The club will be awarding the town/city that has the most participants at the fun run the coveted blue ribbon. Merritt Island was last year's winner. Free post-race pizza and refreshments will be offered with the winning city/town announcement at 7:45pm.
What's this battle all about? PARTICIPATION! It's simple. Awards will be given to the town/city with the most participants. Gather all your neighbors, family members or friends that live in your town/city and encourage them to come run or walk at this fun event. Town/City with the most participants (points) wins the battle.

Why You Should Participate
1. The winning town/city's pride will be at an all-time high. They'll have you to thank.
2. For fun runners this could be "the most rewarding run" of your entire week.

How Do I Participate?
1. Each participant will count as 1 point. To be counted, participant must sign-in at the SCR tent prior to running or walking.
2. OPTIONAL: Participant may wear something with their town/city name on it or their town/city's designated color (see list below) to the event to show town/city pride and to coordinate with other town/city resident participants.
3. Get your picture taken after the run with all your town/city's participants.

Rules
1. Sign-up will open for the Battle of Brevard fun run at 5:30 pm and will close at 6:25 pm. You must sign-up prior to your run/walk to be counted.
2. You may physically sign-in one time and under one name only.
4. You may only sign yourself up and/or children under 10 years of age.
3. Be courteous to runners and those around you during the run, including cyclists, cars, trucks and vans.
4. Have fun.

Town/City Designated Color (wear a shirt, shorts, hat, shoes, whatever!)
Barefoot Bay - light pink
Cape Canaveral - turquoise
Cocoa - yellow
Cocoa Beach - red
Grant - beige
Indialantic - lime green
Indian Harbour Beach - navy blue
Malabar - pink
Melbourne - royal blue
Melbourne Beach - burgundy
Melbourne Village - light purple
Merritt Island - white
Micco - gold
Mims - dark gray
Palm Bay - black
Palm Shores - brown
Port St John - teal
Rockledge - heather gray
Satellite Beach - orange
Sharpes - hot pink
Suntree - natural/sand
Titusville - purple
Valkaria - army green
Viera - green
West Melbourne - light blue

Course
Choose your distance. Fluids will be provided .

Battle of Brevard Past Winners
2015 - Rockledge
2016 - Viera
2017 - Merritt Island
---
Apply to be on the 2018/2019 SCR Racing Team
The club is now accepting applications for the upcoming 2018/2019 SCR Racing Team. Fill out the application and return it no later than Sunday, June 17th. Click here to learn more and to download the application. Members receive race singlets and jackets to wear at local and out-of-town races. Be a part of this amazing team! If you have questions, email racingteam@spacecoastrunners.org.
---
Downtown Melbourne 5K is THIS Saturday!
The Downtown Melbourne 5K is the 2nd longest continuously held foot race in Brevard County (the Space Coast Marathon is oldest). The Downtown Melbourne 5K actually consists of two distinct races: a 5K for women and a 5K for men. The original and continuing intent of the single-gender format is to present something different and fun to the runners of the Space Coast. The twin races allow great vantage points for runners to actually watch a race and cheer for their family and friends. For young families with small children, this also gives both Mom and Dad the opportunity to participate without pushing a stroller or worrying about who is watching the kids.
The Downtown Melbourne 5K once again hosts a School Challenge. All children and adolescents under the age of 18 may register for a special reduced fee. The School (public or private) that has the most registrations for the 5K will earn a special award to be presented during the awards ceremony following the races.
Not new but still topical, open team competitions will be held, with four individuals comprising a team. In addition to a trophy for the overall male and female team winners, the four scoring members of the winning teams will earn a complimentary entry to the 2018 race. Last year's winners, Run Like a Girl (women) and Viera Pizza (men) will be back and very determined to hoist the team trophies once more.
As a race whose express objective is to help support children, the Downtown Melbourne 5K takes great delight in partnering with Space Coast Runners to host the Youth Series events at no charge to the entrants. Moreover, all participants will receive a prize after the race. Whether a quarter or half mile for the tykes, or a mile for the budding racers, there is a distance for supervised fun for all children. No registration for children's races is needed. As long as the kiddos are present a little before 9am, they will be ushered to the race distance that is right for them (1/4 mile to 1 mile).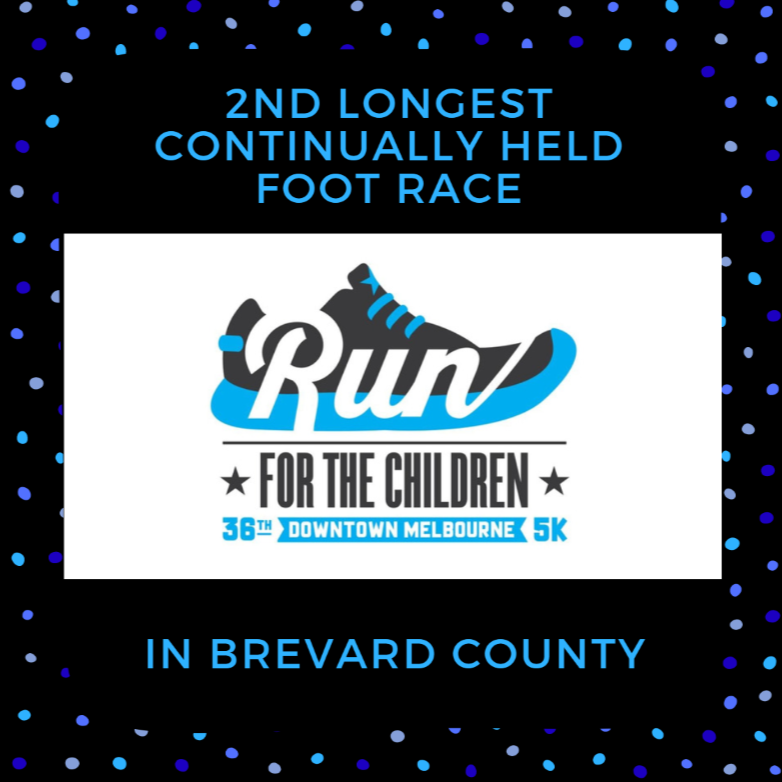 ---
Space Coast Marathon & Half Marathon: Registration opens on Feb. 15, 2018
General registration for the 2018 Space Coast Marathon & Half Marathon opens on Thursday, February 15, 2018 at 9AM EST. This is your chance to run in 1 of 3 outstanding races -- the full marathon, the south course half marathon or the NEW north course half marathon!
The new north course half marathon will be the designated Runner of the Year Series race as well as the Road Runners of America (RRCA) Half Marathon State Championship Race. If you choose to run the south course, no problem! Just remember you will not be eligible for ROY series points.
To register on 2/15/18 - visit http://www.spacecoastmarathon.com/registration/
---
Job Opening
Our Club has enjoyed strong growth over the last several years. With a bigger, more involved club, there are more and more things that need to be done. To help manage the growth and operations of the Club, the Board of Directors has decided to hire a part-time professional to help. Below is a Space Coast Runners' Job posting...our first ever! If you, or someone you know, would be interested in applying for the position, please send a resume detailing your qualifications to Bob Rall, SCR Vice-President, Bob@RallCapital.com. We are accepting applications until January 27th. Your Board of Directors is excited about the future of the Club and are looking for a high quality person to partner with.

Space Coast Runners Director of Operations
Space Coast Runners, Inc. is a 501(c) (3) non-profit organization, under the umbrella of Road Runners Club of America, dedicated to promoting running and competitive events for the benefit of all. The SCR Board of Directors is seeking a hard working Director of Operations to move our Club forward as we approach our 40th anniversary. This is a home based position with Board of Directors monthly meeting attendance required.
This position has the following requirements:
Facilitate implementation of the 2017-2020 SCR Strategic Plan (attached)
Oversee day-to-day Club Operations
Coordinate Established Club Committees
Provide monthly status reports to Board of Directors
Qualifications:
Excellent verbal, written communication, and organizational skills
Familiar with local running community
Technically Proficient
Social Media Expertise
Understanding of SCR Mission, Vision, and Values
Familiar with RRCA Policies
Compensation: Independent contractor position to have earnings of $2,000/month
---
We've added 40th Anniversary Hats to our new apparel line!
That's right. Look stylish on the run in the new 40th Anniversary SCR hat. Constructed of micro-fiber with mesh panels, the run dri hat will provide you lots of comfort and shade from the Florida sun. Hat is a relaxed fit with a Velcro fabric strap closure and terry cloth sweatband. Available for purchase at the Tooth Trot for only $12.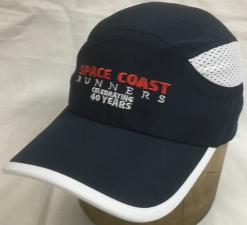 ---
WINTER SOCIAL is SUNDAY, JANUARY 7, 2018
6:30am: Sunday River Road Run | Social kicks off at 9am in Cocoa Village
Join us after your Sunday run Water & Gatorade will be out as usual, for all the runners.
¨ SCR will provide bagels from Bagel 13, hot coffee and OJ
¨ Pot Luck - bring your favorite breakfast treats!
¨ Join us for Yoga in the park by Up & Running Fitness
¨ Renew your membership or join Space Coast Runners and save $5 (check or cash only)
Come mingle & meet SCR members you might not know, find new run partners to join you as you reach for your 2018 goals. We'll have SCR swag bags, giveaways & race entries for some lucky members!
---
Celebrate the 40th anniversary of Space Coast Runners with this special-edition tee. Cut from soft, lightweight fabric, it features a run-inspired graphic that showcases club pride.
We're taking pre-orders now. Simply email your name, address and shirt size to info@spacecoastrunners.org. Shirts will be available to purchase for $15+ tax at the Space Coast Marathon Expo.
Available sizing: Men: S M L XL 2XL | Women: S M L XL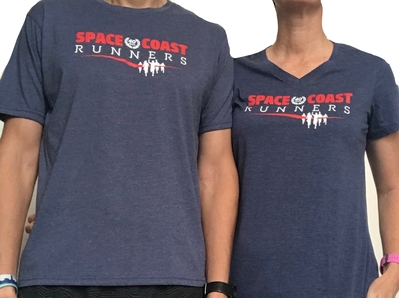 ---
Many Thanks to all the Space Coast Marathon & Half Marathon Volunteers!
Our Club's Board of Directors would like to say "Thank You" to everyone who volunteered this past week and/or came out race day to make this year's 46th Space Coast Marathon, Half Marathon & Team Relay a huge success! The event, which was held on Sunday, November 26, in Cocoa Village, saw over 5,200 finishers!
The day would not have been possible without our amazing volunteers. We are grateful for our medal unwrappers, packet pickup staff, marathon expo team, the road cleanup crew, the pizza servers and let's not forget those who assisted runners on the course and afterwards, who setup the mile markers and those who handed out medals.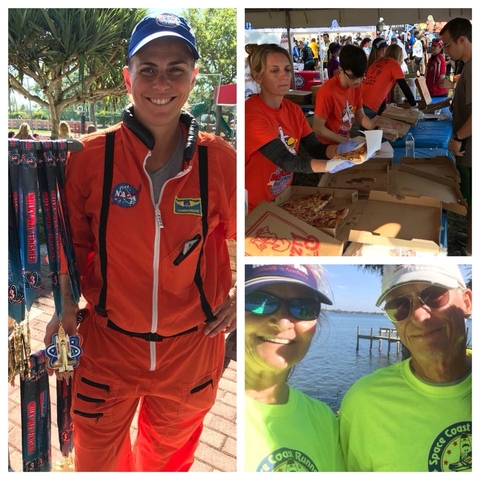 You are all awesome! Thank you.
---
40 Volunteers Needed after Space Coast Marathon & Half Marathon
Volunteering at the SCR Post Race Cleanup is the perfect way to give back to your community and help keep up the race's positive image. Best of all, you can RACE your event and still VOLUNTEER in the same day! We need 40 volunteers to clean up both the North & South side of River Road. If you can help please sign up online at: https://thedriven.net/event.vol_reg_first/eid/6989012379
---
Runner's Nutrition Night presented by Health First is SOLD OUT!
We've filled all 50 slots for the upcoming Runner's Nutrition Night on Thursday, August 10th. If you would like to be added to our wait list please email your name and contact info to socialmedia@spacecoastrunners.org.
---
Summer Social is THIS Saturday
All systems go...the SCR Summer Social is this Saturday, July 15 at the Cocoa Beach Pool Pavilion. Lots of food, drink and good times are to be had. SCR Board member, Howard Kanner has tapped Intracoastal Brewery for the free beers and A NY Pizza House for the food. Hope to see everyone at 1PM. Win prizes when you take a spin on the SCR Prize Wheel. And, we'll be announcing the 2017/2018 SCR Racing Team lineup. Join us. Facebook Event has all the details: https://goo.gl/tDNwjK
---
Runner's Nutrition Night presented by Health First
You're Invited!
Thursday, August 10 at 7:00pm at Holmes Regional Medical Center, Auditorium A (1350 South Hickory Street, Melbourne)
Want to learn about runner's nutrition and how you can make better choices when it comes to eating healthy? Join SCR for this completely FREE event! April Kashdan, a Health First dietitian will speak to Space Coast Runners about nutrition and leading a healthy lifestyle. Health First has provided a space at Holmes Regional for the free event so there's room for up to 50 members to attend.
If you plan to attend, please RSVP so we get a good count. RSVP online at: https://thedriven.net/event.race_reg/eid/8486456789
---
SCR Prediction Fun Run
You don't have to be the FASTEST to win this one!
This year's Prediction Fun Run will be held on Wednesday, August 2nd at Wickham Park. We had a great time last year with Greg Griffin predicting closest to clock. Will he win again this year? Come on out for this FREE event. We'll have Viera Pizza providing post-fun run pizza. The course distance is a surprise - you'll find out when you get there! The course will be between 2.5 - 4 miles.

The Prediction
Participants will sign up at the SCR registration tent and write down next to their name how long it will take them to complete the fun run course.

The Rules
No one is allowed to wear, carry, or have in their possession watches, Garmins, FitBits, timing devices, sun dials, measuring devices, phones, headphones, etc.
---
Merritt Island Wins Battle of Brevard 2017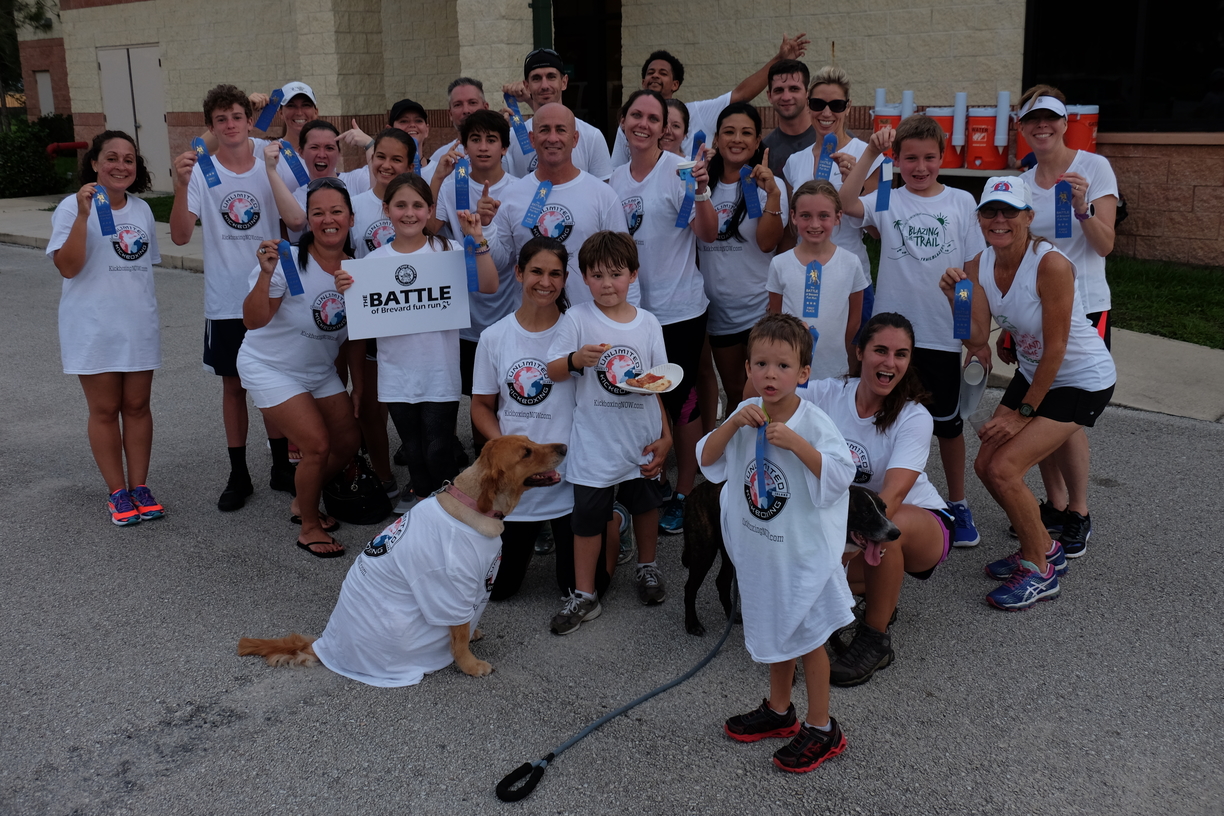 The 3rd annual Battle of Brevard Fun Run was another great success! For the third straight year the title went to a different town. The 2017 winning team was Merritt Island! Viera Pizza provided hot, fresh pizza to participants and popsicles were on hand to help everyone cool down. Special thanks to event co-organizers, Nancy Foresteire and Kimberly Prosser for doing a great job.
Official Counts
Merritt Island - 36

Rockledge - 31

Viera - 19

Melbourne - 17

Port St John - 15

Cocoa Beach - 12

Palm Bay - 9

Satellite Beach - 8

Titusville - 7

Cocoa - 7

Suntree - 6

Indian Harbour Beach - 4

Cape Canaveral - 2

Sharpes - 1
---
SCR PEOPLE'S CHOICE NOMINEES ARE...
Best Local Race
Eat My Crust 5K
Fall Into Winter 5K
Run Run Santa 1 Mile
Space Coast Marathon & Half Marathon
Space Walk of Fame 8K
Turtle Krawl 5K
Best Legs
Dave Farrall
Kristen Klein
Ron Ritter
Most Inspirational Athlete
Gary Castner
John Ouweleen
Tom Ward
Most Improved Runner
Charlene Anstett
Sal Farino
Kimberly Prosser
What Were You Thinking? Award
Gary Gates' Summer Training
Tabitha Good's Solar Bear Run Ditch Jump
Howard Kanner's Hair
Matt Mahoney's # of Events in One Day
And for the Best Finish Line Photo you'll have to wait until you see the ballot. Congratulations to this year's nominees!
---
AWARDS NIGHT TICKETS
Tickets to the SCR Awards Night will be going on sale on Monday, May 1st. We'll post the link to purchase them online here on the SCR website as well as on the Facebook event page. We'll also be accepting nominations for the People's Choice awards. The categories will be announced on May 1.
---
Boston: An American Running Story opens tonight for one night only showing
The 120th anniversary of the Boston Marathon is celebrated with the first-ever feature length documentary, BOSTON: An American Running Story, about famous runners–past and present. Boston-born, Academy Award® winner Matt Damon narrates.
Directed by award-winning filmmaker Jon Dunham, known for his "Spirit of the Marathon" films. the documentary will be simultaneously screened in more than 500 theaters nationwide on April 19th, including in Seattle.
"BOSTON" tells the story of the oldest annually-contested marathon from its humble origin of 15 runners in 1897 to the present day race with 30,000-to 33,000 runners each year. Add to that a half million spectators, 8,500 volunteers, and a thousand reporters from 100 different outlets.
Join Space Coast Runners at AMC 16 at the Avenue Viera for a 7:30pm showing of the movie. Come have dinner before the movie at Pizza Gallery & Grill as they host a special fundraiser for SCR. 10% of your tab will be donated to the club. The fundraiser starts at 5pm and goes until 9:30pm. Show your support tonight & enjoy!
---
HALL OF FAME & GOLDEN SHOE NOMINATIONS DUE 4/15/17
We're looking for members to nominate fellow members to the SCR Hall of Fame for the accomplishments and work they have done in support of the running community.
The nomination must include:
· Active Space Coast Runners candidate's name
· # of years he or she has been a member
· the year or years the candidate is being recognized
· the candidate's accomplishments.
· The nomination must include justification on why the candidate is being nominated and contain sufficient detail to allow the committee to make an objective decision. If available, attach a photo with your nomination.
The Golden Shoe Award recipient does not have to be a member of SCR. The only requirement to be selected as the recipient is that the individual has a positive influence on the sport of running based on his/her contributions to the community.
Email your nominations to Howard Kanner at president@spacecoastrunners.org.
---
NO WATER THIS SUNDAY, 3/26 IN COCOA VILLAGE
Due to the Tri Cocoa Village Sprint & International Triathlon this Sunday in Cocoa Village, SCR will not be putting water or Gatorade out for the long run. If you do decide to run River Road this Sunday, please be courteous to the competitors on the course and above all adhere to all safety guidelines as to not interfere with the race in any way.
---
MARCH BOARD MEETING
Will be held tonight, Monday, March 20, 2017. Meeting will begin at 7:00pm at the Pro-Health Merritt Island. All members are welcome to attend.
---
High School Seniors: Apply now for SCR Scholarship
Attention high school seniors! The deadline is quickly approaching. Apply now for the SCR scholarship. Applicants must be a member of their school's track and/or cross country team, and/or be a member of SCR. Scholarships are awarded based on an essay that addresses the prompt, "how running has affected my relationships with family, friends, and community." Applications and essays must be submitted to the Brevard Schools Foundation by March 20th. See your school's guidance department for the BSF packet for your chance to be chosen to win one of SCR's two $1500 scholarships!
---
SCR AWARDS NIGHT
New location. New time. New silent auction.
This year SCR will be hosting its annual Awards Night at the Cocoa Civic Center in the heart of Cocoa Village. We made the change to accommodate the growing number of members who are attending. AND, we listened to feedback on saying how difficult it was to attend on Saturday night because of Pineapple Man and the Echo Half Marathon so we moved to a Sunday, late afternoon time slot. We're excited to announce we'll open the festivities with a silent auction of fabulous items that every runner dreams about. Come hangout. Have fun and celebrate all the running, walking and time you put into our awesome sport.
SCR Awards Night will be held on Sunday, June 4, 2017. Ticket information coming soon. Stay up to date on our Facebook event page: https://goo.gl/nSSG9Z

If you or your business would like to donate an item to the Silent Auction please email info@spacecoastrunners.org or message us.
---
SLAY OF THE BEAST CHALLENGE ALMOST SOLD OUT
Do you have what it takes? The bridge is waiting for YOU to succeed in completing the Eye of the Dragon 10K..or the Tail of the Lizard 2 mile…or BOTH in our second annual Slay the Beast Challenge! The SBC is your chance to participate in the fantastic double race challenge…run the Eye of the Dragon 10K and THEN run the Tail of the Lizard 2 mile to defeat BOTH of the beasts! Special finisher medals for everyone who takes the 2017 Challenge. Don't wait too long...it will sell out. https://goo.gl/Pf99zo
---
JANUARY BOARD MEETING
Will be held tonight, Monday, June 16, 2017. Meeting will begin at 7:00pm at the Pro-Health Merritt Island. All members are welcome to attend.
---
CANCELLED! Winter Social is cancelled due to weather.
The club's Winter Social will be held on Sunday, January 8th at Riverfront Park in Cocoa Village. Bring a food dish to share. SCR will be providing coffee and drinks. Looks like the forecast is saying it's going to be pretty chilly so make sure you have a jacket on hand in case you get cold. If you're planning to become a new member or need to renew your membership you'll save $5 at the Winter Social. Cash/Check only please.
---
36th Annual SCR New Year's Eve 5K
Will take place in Melbourne Beach on Saturday night at 11:45pm. The 5K fun run is FREE with age graded results. Please bring a snack for the potluck afterward. No alcohol please. Meet at Spessard Holland Park (2990 SR-A1A, Melbourne Beach, FL 32951) where we'll start running in 2016 and finish in 2017 (unless you're super fast). The run is on sidewalk so bring a headlamp and running lights.
The participation record for the New Year's Eve 5K was set back in 1981/82. We need 90 people at this year's run to break it. Check out Matt Mahoney's Facebook event here. We hope to see you there!
---
NEW! CLUB DISCOUNTS FOR OUT OF TOWN RACES
We know our SCR members are always looking for a good deal when they travel to an out of town race. We've updated the Club Discounts Link which is listed under Club Community on the website. You'll find new discounts for the Celebration Marathon & Half Marathon, the Clearwater Distance Classic, Fort Lauderdale A1A Marathon, Half Marathon & 5K and the St. Pete Classic. Plus, the November Virtual Strides race is on their too. For full details & discount codes: https://goo.gl/DB6nWt
---
MARATHON MEDAL UNWRAPPING PARTY - VOLUNTEERS ARE NEEDED.
We're looking for volunteers to help unwrap the Space Coast Marathon & Half Marathon medals. If you would like to be a part of the Marathon Medal Unwrapping Party please sign up online. For full details: https://goo.gl/t2fsAh
---
OCTOBER BOARD MEETING
Will be held on Monday, October 17, 2016. Meeting will begin at 7:00pm at the Pro-Health Viera. It was mistakenly printed in the October SCR newsletter that the meeting is in Merritt Island. It's not. Come to Viera if you wish as all members are welcome to attend.
---
33K SPACE COAST CHALLENGE
Registration for anyone looking to complete this year's 33K Space Coast Challenge is open. Register for the 3 races at one time to save on time and online fees. The 33K challenge is open to members and non-members. It includes the Space Coast Classic 15K, the Eye of the Dragon 10K, and the Space Walk of Fame 8K. To take advantage of the special Space Coast Challenge registration, click here. If you have any questions, pleases contact socialmedia@spacecoastrunners.org.
---
SEPTEMBER BOARD MEETING
Will be held on Monday, September 19, 2016. Meeting will begin at 7:00pm at the Pro-Health Merritt Island. All members are welcome to attend.
---
GREG GRIFFIN DECLARED PREDICTION FUN RUN WINNER
Some might find it daunting to run without a watch for 3.1 miles. Others find it to be a fun challenge. On Wednesday, August 3, Space Coast Runners had over fifty participants in their first ever Prediction Fun Run held at Wickham Park. Everyone set out at the same time, hoping to cross the finish line in the time they had wrote down prior to the start. SCR member, Greg Griffin came out on top with a difference of only 5 seconds. He was declared the night's victor and walked away with his glowing crystal ball award which was presented by fun run coordinator, Lisa Hamelin and SCR president, Howard Kanner.
---
VIERA WINS 2ND ANNUAL BATTLE OF BREVARD FUN RUN
Viera came out strong on their home turf to win the Battle of Brevard Fun Run by two participants over reigning champions, Rockledge. Despite hot temperatures on Wednesday evening, 178 runners and walkers came out to enjoy the fun, food and camaraderie. We had more city/towns represented this year than last and Palm Bay was the night's surprise. They came in third despite having to wear black shirts in the summer heat.
Port St John participants gave us a great tip. Walgreens sells shirts with your local town/city name on them. Remember this for next year's battle!
BATTLE OF BREVARD RESULTS
17 city/towns were represented.
Viera - 34
Rockledge - 32
Palm Bay - 23
Melbourne - 16
Indialantic - 11
Cocoa Beach - 10
Titusville - 10
Suntree - 8
Port St John - 7
Merritt Island - 7
Cocoa - 6
Satellite Beach - 5
West Melbourne - 3
Indian Harbour Beach - 2
Malabar - 2
Palm Shores - 1
Melbourne Beach - 1
Great food was provided by Viera Pizza. Thanks to all the Space Coast Runners' volunteers that helped make this year's event another success.
---
SCR ALL-IN-ONE RUNNER OF THE YEAR SERIES SPECIAL
Now through August 1, 2016 is the time to sign up! Register for the 2016/2017 Runner of the Year series races for one special, limited-time All-In-One price. It's simple, super convenient and SCR members receive over $50 in race registration savings. It doesn't get any better! There's no processing fee to register online. Click here to view all the details.
---
SCR PREDICTION FUN RUN
You don't have to be the FASTEST to win this one! Come join Space Coast Runners for an exciting prediction run. It's the last of our summer fun runs and it's sure to be a "guess-fest". Full event details on our Facebook page: https://www.facebook.com/events/645268528970817/
---
SUMMER SOCIAL SET FOR SATURDAY, JULY 9
Come mix and mingle with your fellow SCR road runners, trail blazers and wonder walkers at our annual Summer Social. Michael Higgins is heading up the festivities and promises to have lots of food from A N.Y. Pizza House and cold beverages for everyone. The event is FREE and will be held at the Cocoa Beach Pool Pavilion starting at 1:00PM. Bring a friend or family member and they can save $5 if they decide we're awesome and want to join the club.
---
JUNE BOARD MEETING
Will be held on Monday, June 20, 2016. Meeting will begin at 7:00pm at the Pro-Health Merritt Island. All members are welcome to attend.
---
BATTLE OF BREVARD FUN RUN - DATE POSTED
The 2nd annual Battle of Brevard Fun Run will be held on Wednesday, July 20 at 6pm. This year's fun run venue will be the Viera Regional Community Center. SCR is branching out to different parks in Brevard County this summer to try and accommodate the membership. Rockledge is the reigning champion for "BOB". Let's see if they will hang on to their title. Full event details on our Facebook page: https://www.facebook.com/events/475948429274776/
---
MAY BOARD MEETING
Will be held on Monday, May 16, 2016. Meeting will begin at 7:00pm at the Pro-Health Viera which is located at 8705 N Wickham Rd, Viera, FL 32940. All members are welcome to attend.
---
33K SPACE COAST CHALLENGE MEDAL PICKUP
If you qualified for the Space Coast Challenge 33K Medal at the Space Walk of Fame 8K but did not receive your medal, please email Dick White at dickwhite@cfl.rr.com.
---
SAVE THE DATE
Awards Night will be held on Saturday, June 4, 2016 at 6:00pm. It's a night to honor top individuals in the "Runner of the Year Series" as well as the outstanding achievements of members. We'll celebrate what makes Brevard's local running scene truly special. Tickets go on sale on Sunday, May 8th. We expect the event to sell out so please purchase your tickets early.
---
AWARDS NIGHT NOMINATIONS
Get ready to nominate your fellow runners in the special Awards Night categories. This year you'll have the opportunity to submit nominations for Best Local Race, Most Inspiring Athlete, Best Local Fun Run, Most Improved Runner and Best Finish Line Photo. Check your email for all the information on Sunday, May 8th.
---
2016-2017 BOARD OF DIRECTORS ELECTIONS
It's time for the Board of Directors and Officer elections. Information on this year's nominees will be emailed out to the membership. We ask that you respond with your vote. The Board needs a broad representation of SCR members to enrich our club's mission and position in the running community.
---
GLOBAL RUNNING DAY
Join us for Global Running Day on Wednesday, June 1, 2016. It's a day for people around the world, especially here in Brevard County to celebrate the joys of running. SCR will be hosting a special get-together. The SCR Fun Run will be held in Cocoa Village at Riverfront Park at 6PM! We'll have refreshments and Ryan's Pizza for all the participants of this great event. Be there!
---
RRCA National Convention - Dallas, TX
SCR sent three members to represent our club at the Road Runners Club of America (RRCA) National Convention in Dallas, TX. Our treasurer, Carol Ball, newsletter design director, Brittany Streufert and Eye of the Dragon race director, Barbara Linton attended classes, heard from super keynote speakers and of course, did a little bit of running.
Ashworth Awards put together a short video for you to experience the convention. To view visit: https://youtu.be/H2Mp78mhlFQ
---