TRAINING
SPACE COAST RUNNERS SPRING 12 WEEK TRAINING CAMP presented by New Wave Physical Therapy

The Spring 2021 training camp will kick off the week of January 18th and run through Sunday, April 11th. Sessions will be held on Tuesdays at 6PM at Satellite Beach South Housing Loop and on Sundays at 6AM at rotating locations. There's an option Wednesday morning meetup at rotation locations at 5:30AM. We will have pace leaders for Sunday workouts too.
Athletes will receive:
Training camp singlet

Group Training atmosphere and runner education

Workout pace leaders

Personalized 12-week training schedule

20% of all New Wave services for duration of camp

Access to closed Facebook group for questions, encouragement and accountability
​Registration is open to SCR members for $140 and $170 for non-SCR members until 1/4/21. Registration price increases by $20 until 1/9/21.
12 week training program is geared towards all running levels that will target the SCR ROY Series race, Space Coast Classic 15K & 2 Mile as the goal race.

Add a 3-Week Speed Extension targeting SCR ROY Series finale, Eat My Crust 5K

Registration for the Space Coast Classic or Eat My Crust 5K is not included with camp registration.

Coaching will be conducted by Kaitlin Donner, along with designated pace leaders.

BONUS! Add a 1-hour group strength session at New Wave PT & Sports Rehab. Session addresses common strength and mobility imbalances in distance runners.
​Meet the Coach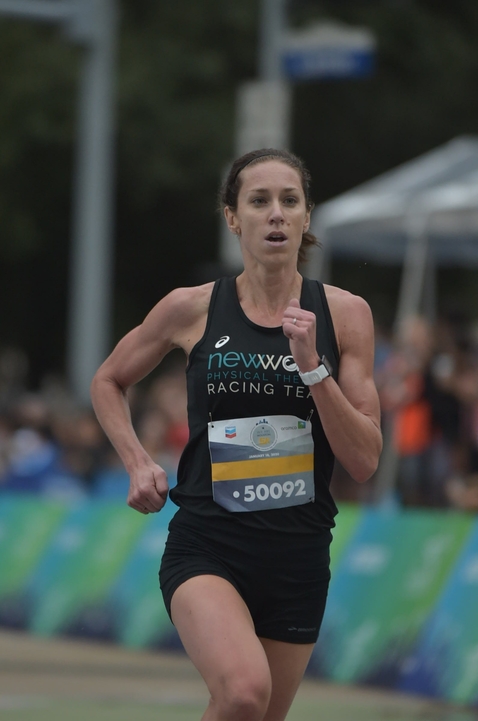 Kaitlin Donner is a Satellite Beach native who currently owns New Wave Physical Therapy & Sports Rehabilitation in Melbourne. Kaitlin graduated from Satellite High School, where she was a 4-time varsity letter recipient in cross-country, swimming and track. Upon graduation, she attended the University of Florida on a cross country and track scholarship and earned multiple SEC Championship team titles in cross country and indoor/outdoor track. After graduating with a Bachelors in Exercise Physiology, she stayed at UF for PT school, earning her Doctorate of Physical Therapy. Just prior to starting PT school, Kaitlin started racing triathlons and quickly earned her Elite license which allowed her to race professionally around the world and eventually qualifying for the US National Team for several years as well as competing in 2 Olympic Trials events. About two years ago she decided to step away from racing to move back to Satellite Beach full time to open an outpatient orthopedic physical therapy clinic to serve the athletes and active population of Brevard County.