Since 1978, many dedicated people have given their time, hard work and countless contributions to Space Coast Runners. Their efforts have led to the success and growth of the Space Coast Runners organization in the Brevard community and throughout the state of Florida.
To recognize these distinguished individuals, the Space Coast Runners Board of Directors along with past SCR president, Marty Winkel established the Lifetime Achievement Award in 2014.
2015
Bernie Sher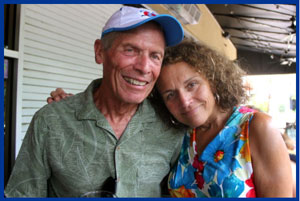 It is with great pride that runner, Ironman, volunteer, coach, SCM race director, inspiration and cancer survivor, Bernie Sher was presented the second Lifetime Achievement Award on June 6th, 2015. Bernie has always been a man of great integrity and has given back to the running community in many ways. He served as a Space Coast Runners Club Board member for multiple years - 2002, 2003, 2004, 2011 and 2012. Bernie has volunteered at multiple races and is a familiar face at many running events -- coaching and supporting all runners and triathletes. He was vital to both the Space Coast Marathon and SCR's growth.
In 2003 Bernie volunteered to direct the floundering Space Coast Marathon. He had a vision of turning the marathon into something more than it was at that time. He knew if it was managed differently, it could become a premier event for Brevard County and could gain national notoriety and recognition. As the Race Director, he assigned authority and accountability to team captains who were responsible for various functions (finish line, aide stations, course ops, etc.). He moved the course to Cocoa to run along the scenic Indian River and certified the course through the USATF process. Bernie also added a pre-race pasta dinner at the Radisson in Cape Canaveral and invited guest speaker, Hal Higdon.
The event drew a record number of registrants and netted the club unprecedented proceeds ($10,000). The proceeds put the club in the black financially and provided SCR the ability to contribute $3,000 to the Women's Center, which at the time was the largest donation ever contributed to any one charity by SCR. Bernie's efforts proved that SCR could produce a high caliber event and substantially give back to the community.
In addition to the heavy workload of directing the marathon, Bernie started a marathon training camp for registered participants. Bernie's passion to help runners of all abilities accomplishes their goals and his extensive running knowledge resulted in several of his campers placing in their age groups and/or qualifying for the Boston Marathon. One of his campers was the overall female winner at the Space Coast Marathon.
Through running and tri clinics, as well as one-on-one coaching, Bernie has helped scores of people achieve their personal best at races varying from 5Ks all the way to Ironman. Bernie is respectively and deservingly known as "Coach Bernie." He is a rare gem.
2014
Henry Campbell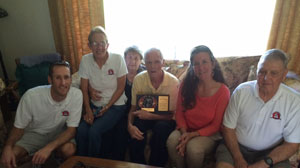 In addition to being inducted into the Hall of Fame in 2001 and the sixth Golden Shoe Award recipient in 1996, the inaugural Lifetime Achievement Award was presented to Henry Campbell on Sunday, March 30, 2014.
Fortunately for the running community, on January 13 1979 on a sunny afternoon Henry and Rosie's oldest daughter asked her dad to run around the block with her. With about 100 yards to go she started running fast. Henry, a well established 190+lb., 45 pounds overweight couch potato, who turned 45 only 10 days earlier, tried to keep up with her. He didn't stop in the yard like she did…he ran into the house. Rosie and her daughter went in to see if he was OK. "He was lying on the floor gasping for breath, trying to talk while feebly waving goodbye to us", says Rosie. "When he recovered he said he did not want the neighbors seeing him dying in the front yard."
This was the beginning of Henry's running career. After running for 5 months he got the nerve to run in the daylight, he was down to 163 Ib. and Rosie convinced him to sign-up for the 1979 Pineapple 10K. When they arrived, Henry saw runners stretching and warming up and decided to go home since he could never do that. He was hiding behind a telephone pole at the start when the gun went off and Rosie gave him a shove. That was his first race of 580 races through 2001. No one is sure how many races he ran from 2001 to the present. Rosie has gone with him to all but 3 races.
Tom and Dot Pifer, along with Bob Lawton, founded Space Coast Runners in 1978. Henry began attending meetings to learn about running and ended up running the club. Not to take anything away from the early presidents of SCR, but the club drifted along until Henry (and Rosie) took over the presidency of the club in 1980, an office he held for three years. Henry took the club from 70 members to over 400 members. The newsletter went from a single sheet to 16 pages and was published at no cost; SCR joined the RRCA; and with the help of Robin Weaver, started the Space Coast Runner of the Year Series. Henry also wrote a monthly "President's Column" for the newsletter.
It was during Henry's presidency when the club purchased its first measuring wheel. The 5 and 10 mile "Nick Gailey" courses in Titusville and many courses in Brevard were measured by Henry in his "spare time". Henry may have put more miles in measuring the courses we were running on than he spent running. His real test as President came at the Merritt Island Mall 5K. It will go down as the Space Coast Runners all-time disaster race.
The course markings were typing paper stapled to telephone poles that most runners never saw, the length was something over 8 mi., the water stop ran out of cups and water. The fact that it started 11:00 AM on one of the hottest days of the year added to the problems. There were people lying in the streets. Thank Heaven for the ambulances. The write up in the Orlando Sentinel was brutal. They advised runners to stay away from anything associated with the Space Coast Runners. Henry wrote to the Sentinel and said it was proper to blame the race director, or him, but not the members of Space Coast Runners. Henry gave his word that the Marathon would be the correct distance, that there would be water stops and that the course markings would be the best. That is where those signs saying "caution runners" with a picture of a runner on the back were born.
Henry spent all the daylight hours after work getting plywood scraps to make the signs and all the dark hours before bedtime painting them. Red signs for the marathon and green signs for the half-marathon. The day before the marathon he and his crew put up all the signs and painted a red line the length of the marathon course and a green line the length of the half marathon course. The next day he ran his first marathon. After the marathon, the race director asked him what he was going to do with all the club's stuff, the finish line chute and all those signs he made. Henry and Rosie piled everything in or on their station wagon. Henry had all the club's equipment stacked in his garage.
Henry did not have an allegiance to the club as such even when he was President; his allegiance was to the runners and the sport. He used the club as a means to contribute to that cause. He believed that the running club was not a business to make money but was a service to its members. He was the only incumbent president to lose a bid for reelection.
Henry did not sit idly by after he left office. For a couple of years he maintained the SCR race calendar, in 1986 he was the membership secretary and remained a dedicated member of the Board of Directors for a number of years. As he did when he was president, Henry continued to devote many hours as race director and fun run director. He was the New Year's Eve 5k race director for 15 years, marathon race director and half marathon race director, Space Coast Ultra Marathon director for 6 years and countless other races. I'm not sure if anyone, including Henry, knows how many races he worked as a volunteer.
Henry's most notable and recognizable running engineering success is his unpatented scoring system, the best manual scoring system seen at any race. It is estimated that Henry has made over 80,000 Henry Campbell scoring cards. On the other side of the spectrum is Henry's not so notable, but effective "Keep your head up so you can breathe properly-Roach Clip". This is a device that Henry used to keep his head up during races. The theory is that when you drop your head your air passageway is restricted. By clipping this "roach clip" to his shirt collar and his hair, when his head drops his hair will pull and this should remind Henry to pick his head up.
Henry was known to stop in a race to help a struggling young runner who is walking. Henry would encourage the runner to just run along with him, proving to himself that he can do a little better with a little more effort. Henry didn't mind helping slower runners and didn't mind being beat by the same runner he just helped. Based on these achievements and for the many others not mentioned, Space Coast Runners will always remember Henry Campbell.