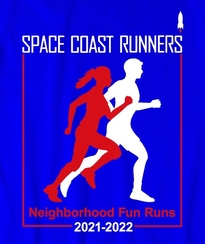 Are you looking for a fun and easy challenge and a way to safely explore different areas throughout the county with fellow runners? Come join us as we run/walk the neighborhoods of Brevard County!
WHAT and WHEN?
Beginning July, we will explore many of Brevard County's communities with a fun run/walk designed as a 3-mile course. These routes can be extended up to 5 miles if you want a longer distance. An SCR volunteer will coordinate and lead a weekly run thru their neighborhood. Day of the week and times will vary to allow many opportunities to get that run in. You only need to participate in one of the weekly runs to receive credit for that neighborhood. Come run all 9 neighborhoods or just a few, it's up to you.
WHERE?
The 2021-2022 series will be covering 9 communities including:
Port St. John, Viera/Suntree, Titusville, Merritt Island, Cocoa Beach, Melbourne, Palm Bay, Melbourne Beach and Rockledge.
Month 1: Viera (completed)
Month 2: Titusville (completed)
Month 3: Cocoa Beach (completed)
Month 4: Melbourne Beach (completed)
THIS MONTH 5: Port St John
​The 5th neighborhood run will take place in Port St John. Join a SCR neighborhood lead for a 3 mile tour around PSJ from Fay Lake Park on one or all of the following dates:
Location: Fay Lake Park, 6300 Fay Blvd, 32927
Dates:
November 4 @ 6:30PM

November 13 @ 7:00AM - great one to invite the whole family! Kids are welcome.
November 18 @ 6:30PM
November 23 @ 5:45AM
Most of these runs will be in the dark. Please wear a light and reflective clothing. A link will be available for the route each month via email, FB and event link on the SCR website. You can run at one, two, three or four of the neighborhood runs at each community location. You only have to run or walk at one of the dates to receive credit.
All Participants will receive:
Group socialization and support

Custom painted plaque if you complete all 9 neighborhoods.
Paid Participants will also receive:
Soft tri-blend t-shirt with fun runs logo

Custom painted plaque if you complete at least 7 of the 9 neighborhood runs.

Cost: $ 12.00 for SCR members, $17.00 for non-members
Registration is open. You can register by clicking here.
Registration is open to anyone 18 years of age and older. Under 18 see restrictions below (*) Participants may sign up at any time during the 9 months. There will be a sign in sheet at each of the runs that must be signed to receive credit for that run.
*Please Note: Participants under age 13 will require an adult with them during runs. Adult must register and sign waiver but will only receive shirt and plaque with their own paid registration. Ages 13-18 require an adult signature on registration and waiver.
Please select shirt size:
Women's S, M, L, XL
Men's S, M, L, XL, 2XL